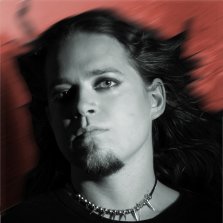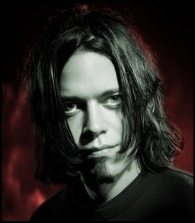 So I finally got myself together and finished this website I've been working on since 2004. Not that this would have been a big project in any way, but mostly because I've had better things to do ;) I came up with an idea of a website since I wanted to have a place where I can put all my music for everyone to hear. Besides, what could be more fun than inviting the whole world on a tour inside your head? (This is the point where you're supposed to notice that these pages are mostly full of nothing...)

Who am I?
It was a dark and stormy night way back in 1982, a few days after X-mas, when I came into this world. I suppose my parents were hoping for me to be born on Christmas eve so they shouldn't have to buy me any birthday presents - if you're born in December you probably know what I'm talking about. I was born in Rauma but raised in Eura, western Finland, the home of the notorious Eura Daltons and trancehit-musician Darude known from his top single "Sandström". Music really got to me when I was about 10 years old and since then it's been all downhill... I started playing the guitar when I was 12 and joined my first band a few years later. It must have been the late 90's when I found the beauty of recording music; at first I used a Fostex 4-track tape recorder and did acoustic versions on songs that were short enough to fit on my four-minute cassette. Later I bought a computer which did well as a 12-track homestudio, using the legendary free studio software "Goatstudio". 2003 took me to the other side of Finland, to Kuopio, where I began studying medicine. Here I joined a well-known rockband called Chevi Eye, and toured Finland before recording my first real studio album "Vicious Intent". Since then I've gotten into quite a few musical projects - I played bass in the industrial metal band Black Light Discipline, I did some vocals in a melodic heavy metal band called Burning Winter and I did both guitar and vocals in a punk rock project called No Talent. My ambition though is my new band Ode In Black where I do most of the songwriting and play the guitar.
Bad medicine
As a kid I never really thought I'd want to become a doctor. In fact, I wasn't sure until I finished school in Eura, so I guess I can't really say that it's been my "calling". It's more like something I want to do rather than something I feel I have to do. I suppose I COULD do anything I want, but what I found appealing in medicine was the cool white jackets, the money and being surrounded by hot nurses all the time... Nah, I'm just kidding ;) What I love about this profession is the challenge. If you're going to do something for the rest of your life, it's got to be interesting, challenging and hell, it doesn't hurt if you get to help some people while you're at it. So far I've gotten to do all kinds of crazy stuff that I'd never have been able to do elsewhere, like cut open corpses and looked at their organs. It's not all about the school though - just so that we wouldn't get bored KuoLO (Kuopion Lääketieteen Opiskelijat) and certain individuals have also been known to throw a few good parties...